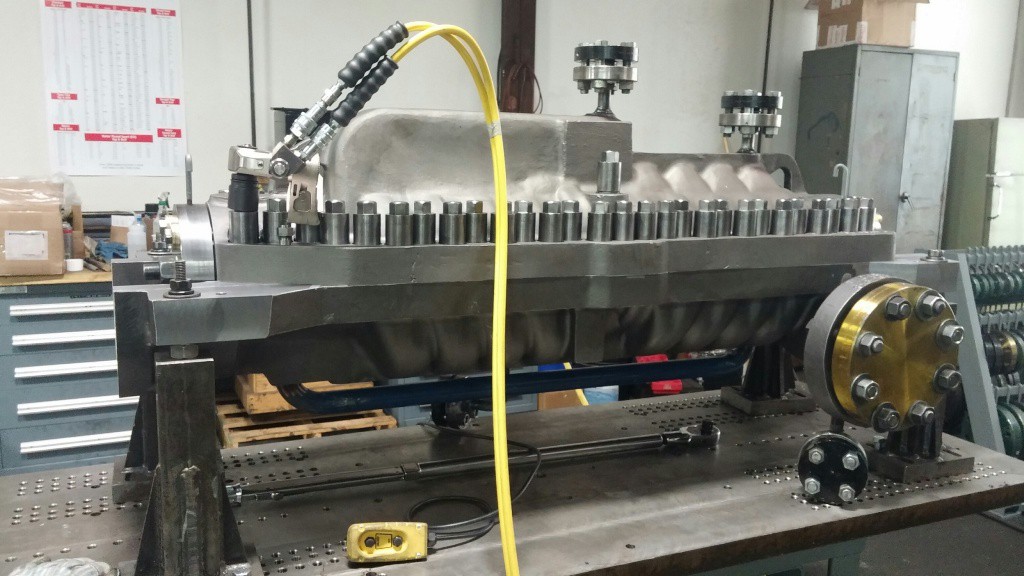 By closely listening to our clients' needs and expectations, Dechert Dynamics Corporation has been able to build a model of excellence in testing solutions for a variety of industries. Our LP and hydro services division supports multiple pump models and parts, ensuring they meet the specifications that will help you do business efficiently and precisely.
Capabilities of Dechert Testing Equipment
From the water treatment and mining industries to petroleum and shipping, the right parts and calibrated equipment are critical to success. Our services allow you to perform daily work activities with confidence, knowing that your parts meet specifications. Our services include:
NDT liquid dye penetrant testing (level II) with ISO level certification and documentation.
Hydro testing specifically designed to meet requirements up to 5000 PSI.
By-metal or smoke and grind processes to match casing halves for accuracy.
The Dechert Difference
Dechert Dynamics Corporation holds a reputation for excellence within the fields of LP and hydro testing, lathe machining, welding and fabrication, and quality control. Our horizontal, vertical, lathe, and vertical turning lathe (VTL) machining services can compliment each other for precise, high-performance machining capabilities. We have experience machining and welding a variety of materials for maximum strength, and all our parts meet industry specifications.
Our company started on the ground level in 1946. Since then, we have grown from a small mom and pop shop to a large corporation that is determined to meet needs and exceed the expectations of companies throughout Pennsylvania. Your business depends on the highest quality and absolute calibration, and we deliver. We partner with a broad range of companies to bring ISO level standards into the workplace.
We believe that relationships and communication are our corporate responsibility and the hallmark of our success. When you work with Dechert, you truly are adding an advocate to your team structure. We promise not only to provide you with successful equipment and measurement tools but also the highest level of ethical standards.
Contact Dechert Dynamics Corporation today to discuss your needs and see if our LP and hydro testing equipment are the right fit for your business.